fathers and sons
In the face of a continued conflict, fathers in Yemen are struggling to raise their sons away from conflict. Some have turned to work, believing there is no future for an educated man in a turmoil filled nation. Others have pushed their sons in school, thinking that education is the only way out. And still others have neither choice, and fight only to keep their sons alive.

Reported for National Geographic
With support by the Pulitzer Center and Women Photograph
---
shafai & musa, fugum, aden
In Aden, Yemen's main southern port city, active conflict has abated, but the economic crisis remains. Educated men have difficulty finding work. This is why Shafai Saleh Hadi, a middle-aged fisherman, doesn't send his sons to school: He believes an education won't help them make a living.
"Working from the sea is best. We can live off the land. We don't have to rely on anyone else."

yahya and salah, jidr, sana'a
"My father was tough with me, and his grandfather before him," says Yahya. "It was a tribal way. They were strict, disciplining us and making us work, but I'm educated. I want to push my son in a different way."

Yahya is a teacher at a local school, and strictly monitors his son so he keeps going to school and doesn't fall into the trap of recruitment to armed groups like other young men his age.
"My father is always teaching us; he doesn't let me wander far from home," says Salah.
"I want to be a pilot, maybe a fighter pilot in the military … The boys who go to fight now? They'll die without any benefit." He concedes that all sides are corrupt in war, and when asked how he could join a military if all sides were corrupt, he and his father laugh together.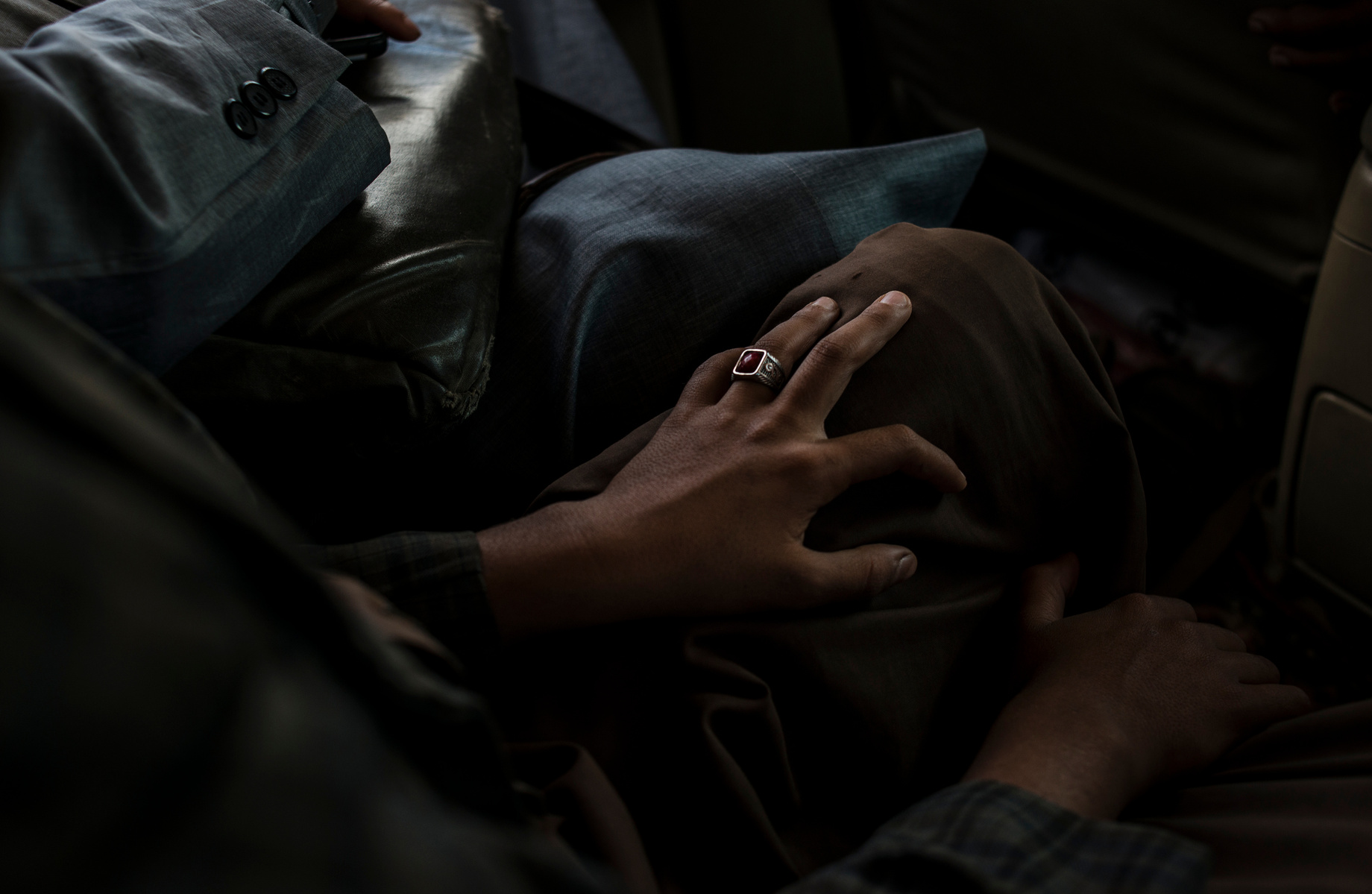 rasheed and mohammad, hajjah city, hajjah
Not all fathers have the space to teach their sons about ethics and behavior, to be their mentor or friend. Some are simply trying to keep their sons alive.
In a country where 22 million people—approximately 80 percent of the population—need some sort of assistance and nearly 18 million people face food insecurity, hunger and health trump traditional father-son interactions.
In Hajjah, a mountainous province five hours northwest of Sanaa, Rasheed al Suwaidy holds his eight-year-old son's hand, guiding him through the cramped hallways of Jumhuri Hospital. He's looking for someone, anyone, who can help them.
Mohammad was born with a post-urethral valve, which makes urination difficult. When he was young, doctors rerouted his urethra to a fistula just beneath his belly button.

"I would do anything for my son. But I can barely afford to feed all of us. We have eight girls and three boys. We're a poor family. It hurts me to see him like this, people shunning him because of his smell. I want him to grow up happy and have a normal life, but this is really difficult."
fathi and hamza, aden city, aden
In Yemen's few true cities, fathers often have trouble corralling their sons. In the village, they have land to work, stock to feed, and goods to sell. In cities like Aden, economic struggles go unnoticed by most youth, who play outside, cruise the borders of town, and seek out the best places to lounge. Many young men have joined the Emirati Security Forces, armed local 'protection units' or even Al Qaeda.
Fathi al Atef, who speaks and teaches multiple languages, has dedicated himself to ensuring his son, Hamza, avoids the same path.

Fathi declares his opinion about the state of humanity in Yemen during the war, "To be a man is to behave in a humanitarian way. If you want respect, behave kindly, be honest. This is what I teach my son."

Speaking of his father, Hamza said, "The most important thing as a man is your behavior, because it reflects on your character. My friends are influenced by their father's character, good or bad, and I'm influenced by my father."